IAUCTB | Thesis Project | Spring 2014
Supervisor :Hamid Nasernasir
By Mahan Mehrvarz
---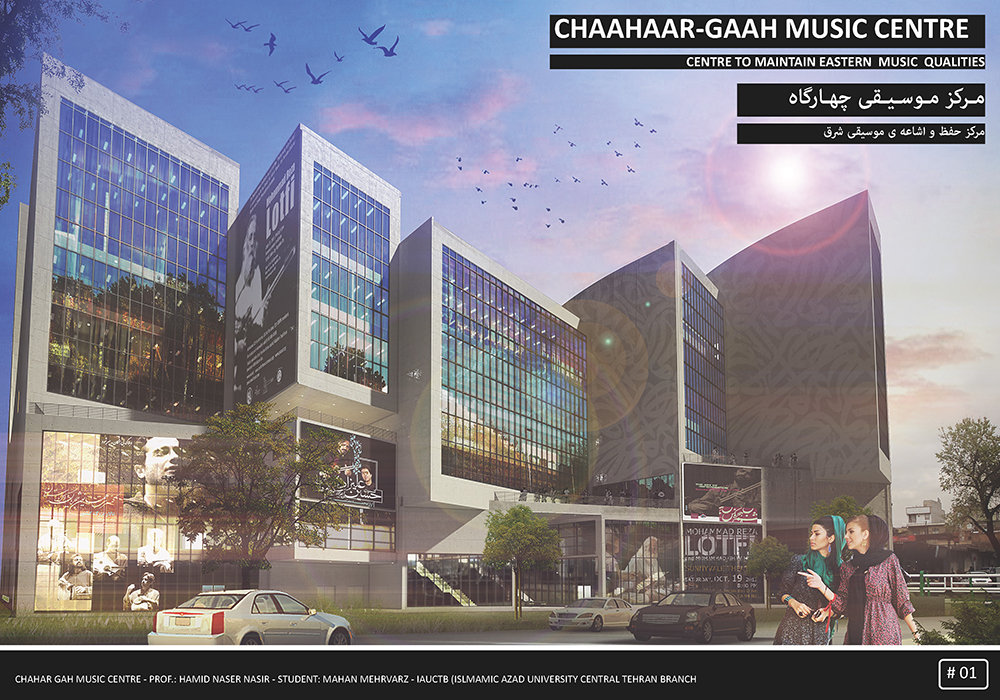 Chahārgāh is a Persian musical mode and one of the seven Dastgāhs of Persian Music (Classically, Persian Music is organized into seven Dastgāhs and five Āvāzes). The term dastgāh has often been compared to the musical mode in Western musicology. This, however, does not reflect the correct meaning of the term.
This time, though Chahārgāh is not about Music itself, it is about creating space for a very special type of music. A type of music which is taught, learned and performed differently. So why should we not enjoy it in a way which is most appropriate? Unfortunately since being interfused to western music and music theaters, audiences of traditional music in middle east adapt to sit down in music theaters which were designed for western music repertoire (classical music in general) as a part modernization. And those music theaters were built based on standards and codes made from observations of western music repertoire and orchestras.
Chahārgāh music center is an effort to recognize the trends of Traditional Persian Music to create spaces with better capacities for performers of this type of music. Spaces undergo the feelings and concepts of Persian music. Instead of big saloons with high capacity, performance spaces are split into smaller saloons because of the nature of the music type. Also, public spaces are embedded in the building to both play the role of an urban generator and promote instruments and songs (Naghmeh) of Persian music. Public spaces that are open to a historic cemetery where several musicians and artists are buried. Openings for people to look at the greatness of the history of an ancient type of music or maybe openings for many souls of musicians to have a living center for what they have put their lives on.